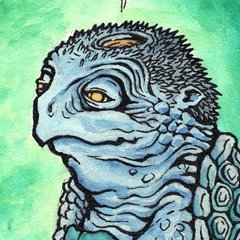 Patrick Weck
Blue Mask Studio: Murals, Illustration, Comics
st. louis, United States of America
Summary
I am a painter, illustrator and muralist working in St. Louis.
You can purchase my art prints and comics on my online Etsy shop: https://www.etsy.com/shop/BlueMaskStudio
--Education: Bachelor of Arts degree (2012) from Hampshire College, with a focus in studio art and illustration.
--Muralist: I paint exhibit murals for the St. Louis Zoo, as well as other organizations and businesses. I have painted 19 original murals for the zoo depicting the natural habitats of hellbender salamanders, caiman lizards, golden lion tamarins, and other glorious beasts.
--Illustrator: I am skilled with both traditional media (acrylic, watercolor, ink, oil) and digital media (photoshop). I make illustrations for stories, comics, and t-shirts. For my college thesis, I wrote and illustrated a fifty page graphic novel titled Teletravel about the metaphysical paradoxes associated with teleportation.
--Painter: My work has been displayed in numerous St. Louis galleries.
Skills
Illustration
Painting
Drawing
Software proficiency