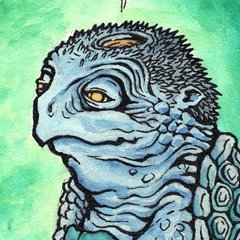 Patrick Weck
Freelance illustrator and muralist
st. louis, United States of America
Summary
I am a painter, illustrator and muralist working in St. Louis. I have a Bachelor of Arts degree (2012) from Hampshire College, with a focus in studio art and illustration.
--Muralist: I paint exhibit murals for the St. Louis Zoo. I have painted 10 original murals depicting the natural habitats of hellbender salamanders, caiman lizards, golden lion tamarins, and other glorious beasts.
--Illustrator: I am skilled with both traditional media (acrylic, watercolor, ink, oil) and digital media (photoshop). I make illustrations for stories, comics, and t-shirts. I am currently working on illustrating a fantasy graphic novel written by Nathan Anecone, titled The Calligrapher. For my college thesis, I wrote and illustrated a fifty page graphic novel titled Teletravel about the metaphysical paradoxes associated with teleportation.
--Painter: My work has been displayed in local gallery shows. I sell prints of my original work on my online Etsy shop.
https://www.etsy.com/shop/PatrickWeckStudio?ref=pr_shop_more
--Art Instructor: Sept. 2012 to Aug. 2014. I taught classes for students ages 7 to 17 at the Pen2Paper art studio in Columbia, IL. Students in my classes learned how to draw animals and characters and how to compose visual stories and illustrate their own comic books.
Skills
Illustration
Painting
Drawing
Software proficiency